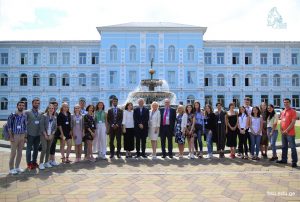 International Summer School "Constitutional Democracy: Modern Challenges" has started within the frames of the partnership between Batumi Shota Rustaveli State University and Mykolas Romeris University. The Summer School has been opened by the Rector of BSU Merab Khalvashi, Dean of the Faculty of Law and Social Sciences – Levan Jakeli, Associate Professor and the Director of the Summer School – Malkhaz Nakashidze, Professor Toma Birmontiene of Mykolas Romeris University and The Head of the Department of Education at the Ministry of Education, Culture and Sport of Adjara A.R. – Nazibrola Beridze-Gabaidze. During the week, students from Georgia, UK, Estonia, Belgium, Ukraine, Azerbaijan, and Armenia will study the topical issues of constitutional law and important institutions of constitutional democracy.
The Summer School is held with the support of the seasonal sub-program "Supporting Higher Education" of the Ministry of Education, Culture and Sport of Ajara AR of and co-funded by the International Institute for Academic Development.
The purpose of the one-week training is to enhance students' professional knowledge of the important institutions of constitutional democracy, promote mobility of foreign students in Georgia, and enhance collaboration between students and professors.
The Summer school lectures will be delivered by:
– Prof. Richard Albert, the University of Texas at Austin, School of Law, USA;
– Prof. David Schultz, Hemline University, Department of Political Science, USA;
– Prof. Toma Bermontiene, Faculty of Law of Mykolas Romeris University, Former Judge of the Constitutional Court, Lithuania;
– Prof. Anita Rodina, Dean of the Faculty of Law, University of Latvia, Latvia;
– Assoc. Prof. Malkhaz Nakashidze, Batumi Shota Rustaveli State University, the Summer School Director, Georgia.
The seasonal school program covers the following topics:
 Constitutional democracy in Europe and America;
 Constitution, government restrictions and democracy;
 Constitution and human fundamental rights;
 President, Parliament, Government in Constitutional Democracy;
 Federalism, Unitarianism, Regionalism and Autonomy;
 Theory of Democracy and Constitutional Law;
 Constitutional identity;
 Unconstitutional constitutional amendments;
 International law and constitutional law;
 American Constitutional Law Theory;
 US President and American Constitutional Law;
 Interpretation of Constitution: Principles and Methodology;
 Standards of good legislation;
 Constitutional populism;
 Mechanisms and strategies for protecting the constitution;
 The Constitution of Georgia of February 21, 1921;
 The US Supreme Court in American Law and Politics;
 Constitutional changes: elaboration, violation, and amendments;
 Crisis of Constitutional Democracy and Constitutional Court;
On August 22, within the frames of the Summer School, presentation of the book "Constitutional Amendments: Making, Breaking, and Changing Constitutions" by Professor Richard Albert from the University of Texas, was made at the Constitutional Court of Georgia, at 11:00 am, and the same day, at 16:30, the Public Lecture on the topic: "Understanding the 2020 US Elections" was delivered by Professor David Schultz from Hemline University at American Corner Batumi.
For farther information please visit https://www.bsu.edu.ge/main/page/2227/index.html